November 17, 2016
Getting in the Spirit
It's the holiday season. Every where you go you are bombarded with reminders that is only x number of days til Christmas. The turkey price war is raging. But you are occupied with another war far away. One that means your son or daughter won't be home. There will be an empty chair at your holiday table. And even if they are safe and sound somewhere in the US you fight the battle against melancholy. Every mom wants their kid home for the holidays.
I hear you. This time of the year can be a struggle to fight against the cheeriness of so many families reuniting. An innocent question: "Will your kids be home for Thanksgiving/Christmas? can sometime be met with tears. It all depends on the weather of the heart. Is this a raw day with the winds of change blowing fiercely? It's not the way it was. So what is a mom to do to fight back at the storms that buffet her soul?
It's been almost a decade since I have had my four home for Christmas. This was supposed to be the year. But a surprise deployment cancelled those plans. After a pity party (yes we are allowed those every once in a while) I did what I learned to do as a military child. You pull up those boot straps and make a decision and a plan to overcome. I will find gratitude and joy even if it is in different ways than I did in the past.
What is in your holiday battle plan? Mine includes a lot of creativity and crafting. When I am making something I feel an accomplishment that helps soothe my soul. I fill care packages including one with a Charlie Brown tree as pictured below. You have to have a sense of humor!
I throw out traditions. They feel hollow without my children here. Instead of lamenting our table for two my husband and I will travel to a mountain lodge for a Thanksgiving brunch. I will try to find a place to volunteer on Christmas Day to fill the emptiness and quiet the memories of days past.  I will focus on the meaning of the holidays.I am thankful that all are safe and my family is multiplying with a new baby arriving right when that reason for the season arrived 2000 plus years ago.
We mommas need to be brave, even when it is hard. Put on your armor and fight the blues. Be grateful our country has young people like ours to stand in the gap even though we'd rather they be sitting at our table at home. Look for joy where ever you find it. And remember you are not alone. There are thousands of us standing with you fighting the fight to keep this season blessed. We can do this. Share what you do to overcome and find joy and peace. We can always use more ammunition against the holiday blues.
November 4, 2016
Fearless
Halloween with the ghost and goblins and things that go bump in the night is behind us. It is always a wistful time for me. I remember the anticipation of the kiddos as we worked through what they would be. In the early days I spent hours sewing costumes only to be discarded because "Now I want to be an Army guy Mom!' or the Ohio weather requiring something to be worn over three layers of clothing. Tromping door to door combined with the pure joy they felt as they filled their bag with kindness and candy made all the hassles worth it. The year they each decided they were too big or too busy for Halloween was so sad. Another piece of childhood slipped away and I am reminded of that each Halloween
Now that they are grownups most of them are busy with those same preparations for costumes for their kids. But one is deployed in a place where things that go boom in the night occurs on a regular basis and I struggle with the fears that go along with that. What do you do with that angst when you know people are trying to harm your child?
Several months ago I bought the Fearless sculpture pictured below on a treasure hunting trip to TJ MAXX-my favorite place to go when I am looking for nothing and find everything.  It really has two meanings-to be fearless, that is without fear. My kids are fearless. They are well trained and motivated to do their duty no matter what the circumstances. The confidence I have in them and their abilities causes me, along with faith in God, to fear less.
Fear less. It is an act of the will not the heart. I have to work on it every day. I pray Gods protection with Psalm 91. I remind myself of all they have faced in the past, how much they have overcome. I pick up my knitting and meditate on good positive thoughts like homecoming and the next holiday they wll be home.
Becoming fearless is not easy. It requires a lot of mental and emotional energy. That means I have to cut off things that drain me anytime I can. I make an effort to stay balanced and focused on doing what mommas do-support my kid(s).
I know as we move into this holiday season many of you struggle. It's very hard to contemplate those empty chairs at the table. As I am filling care packages I am trying to box up joy and love to take the place of home. It is not really possible to replace. But I am convicted that it is my duty to keep going, to do the mom things we have always done-try to bring happiness and comfort to my children, and to stay strong and support them so they don't worry about me.
There is an old saying "Feed a cold, starve a fever". This season my mantra is "Feed hope, and starve fear. " Let's all work to Fear Less and use our energy to bring joy where ever we can.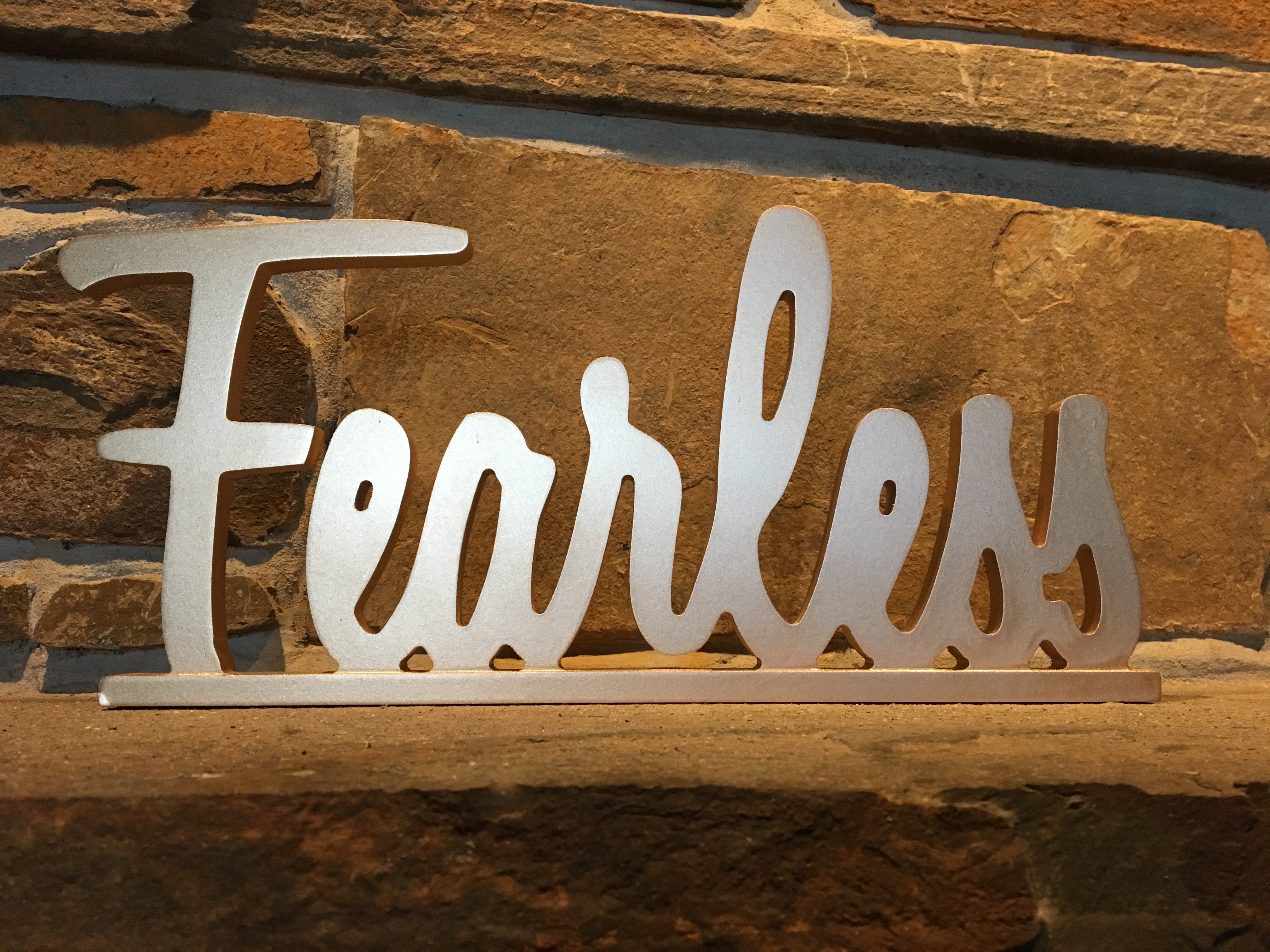 More Posts