target="_blank">Finding others in the Sisterhood can be a great source of support and wonderful new friends who understand.
Blue Star Families

Blue Star Families was formed in April 2009 by a group of military spouses to create a platform where military family members can join with civilian communities and leaders to address the challenges of military life. Blue Star Families includes active duty, National Guard, Reserve, wounded, transitioning service members and their families from all ranks and services, as well as veterans and civilians who strongly support us.
Blue Star Mothers
We are mothers, stepmothers, grandmothers, foster mothers and female legal guardians who have children serving in the military, guard or reserves, or children who are veterans. We support each other and our children while promoting patriotism. Our organization focuses on our mission every single day and will never, ever, forsake our troops, our veterans or the families of our Fallen Heroes.
The National Military Family Association
NMFA is the voice of military families because, for 45 years, we have proven that we stand behind service members, their spouses, and their children. Our Association is the "go to" source for Administration Officials, Members of Congress, and key decision makers when they want to understand the issues facing our families. They know we have "boots on the ground" with military families and understand better than anyone that "military families serve, too." Through the support and programs we provide, and our respected voice on Capitol Hill, at the Pentagon and Veterans Administration, our Association always looks out for the families who stand behind the uniform and for those who serve. – See more at: http://www.militaryfamily.org/about-us/#sthash.FIaMRmvW.dpuf

Army Mom Strong
When I learned my son, who is in the Army, was being deployed to Afghanistan, I was scared.
I had no one to turn to who would understand what I was going through. I scoured the Internet to get information about deployment and to find support.
I learned that we are all in this together. Our soldiers are doing the really hard work and we need to stick together and support each other, so we, in turn, can support our soldiers and the families that wait for them.
I found many Army Moms via the Internet – we provide support to each other, if only in email. It really helps!
I started Army Mom Strong because of an Army Mom friend who sent me a heartfelt message one day. I was feeling impossibly down and she tried to lift my spirits. She signed her message: "Be Strong. Army Mom Strong".
So here we all are – being strong together as our children fight a war 6000 miles away from home.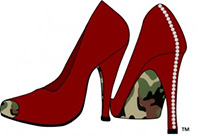 HH6 Camo Chix
If you are the wife or mother of a newly-minted soldier, sailor, airman, marine, or coastie, then this website is for you. The mission of HH6 Camo Chix is to support the civilians who stand behind our service members by providing easy access to relevant resources and timely information about issues that matter to new military spouses and parents of service members. Read our most current blog posts and articles here, or click on one of the links above for a drop-down menu of specific topics of interests.
The meaning behind the HH6 Camo Chix™ name and logo
In the world of military acronyms, the term "HH6″ translates to "household commander," the designation given to military spouses. The inspiration for our red-shoe logo came to HH6 Camo Chix ™ founder, Ann Medlin, while she was recovering from an injury that left her working her way from wheelchair to walker and then a cane. Ann no longer needs her cane, and with ongoing physical therapy, she hopes to one day recover fully and trade in her "sensible" shoes for a very special pair of red-stiletto heels.
[divider]

A comprehensive web site for Marine Corps families & supporters:
Click here to visit www.MarineParents.com
[divider]
[divider]
[divider]
[divider]
U.S. Coast Guard
Coast Guard forums for parents questions.
[divider]
Coast Guard Foundation
Coast Guard parents
[divider]
This page has the following mission:
To create an awareness of the challenges of the military community

To offer practical suggestions to churches, communities and individuals on how to support and encourage the military community

To provide a comprehensive list of resources for the military community and its supporters
[divider]
This is non military inspirational site for women that I enjoy visiting where the power of positive thinking and womens friendship is encouraged.
[divider]
White House: Joining Forces
[divider]
Moms of Military
The Moms of Military Prayer and Support Group (MOMS), is a group of mothers and wives (open to ALL women related to anyone serving in the military) of loved ones currently serving in the United States military. We gather to pray and support our troops and military families around the country. We support each other with hugs and prayers and share our experiences and ideas: traveling to boot camp for graduation ceremonies, or making it through our loved ones deployments. Most importantly, we support our soldiers, marines and sailors with our prayers, love and friendship as they go about the difficult task of protecting this great land. Although we began in Orange County, CA, we offer prayer and support across the U.S. Many unique and supportive friendships with other MOMS have been possible across the state;, connecting MOMS together. We hope to reach out to every Military Mom and share the experiences that bind us with one heart for our loved ones.
[divider]
Operation Safety 91
This group provides free Psalm 91 prayer cards to military and First Responders.
[divider]
Blogs I follow
The Write Conversation
Pioneer Woman
[divider]
Facebook Support Groups for Parents of Servicemembers
There are numerous Facebook Groups. Many have associated websites. Some are open groups and some are closed groups. Here are a few I belong to:
Be Safe, Love Mom (of course)
Army Strong Mom
Marine Mom
Future Army Soldier
Military Mama Network
Marine Moms